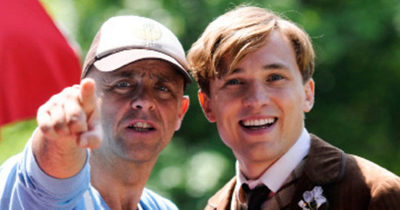 I was born 1967 in a small town in Tirol, strangely in an Old Folks Home. I grew up at a beautiful lake (Achensee) and later moved to Innsbruck. There I graduated from Business School in 1992. Then worked different jobs during my studies: Gardner, Construction Worker, Office Assistant, Steel-Mill Worker, Bicycle Tour Guide, Radio Program Director and studied Political Science before I started as an actor at the local theater company.

Within seven years I acted in a truck load of plays in Austria, Germany and Italy. Same time I started writing and directed some stage plays and short films. My first short film FLUCHT became somewhat of an internet phenomenon in the 90s (Yes, they had Internet then). And with FLUCHT I got accepted at the Directing Program of the American Film Institute (AFI) in Los Angeles. Man, was I excited.

Three years and five films later I graduated from AFI. That was in 2002. My short films won nice awards but really what I needed to do was a feature. Here came the idea to SOUTH OF PICO. The spark became my debut feature starring Christina Hendricks and Kip Pardue, as well as Gina Torres and Henry Simmons. SOUTH OF PICO won many awards all over the world and was released in the US, Asia and Europe. My first documentary GLOBAL WARNING was then presented in 2011. And as I am now releasing my second feature film THE SILENT MOUNTAIN which we shot with William Moseley and screen legend Claudia Cardinale I can't wait for the next story to tell.